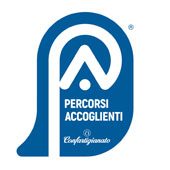 …a new model of sustainable tourism with a focus on artisan craftsmanship.
Percorsi Accoglienti is a project by Confartigianato Imprese which aims to create a new model of sustainable tourism with a focus on artisan craftsmanship. The words "Percorsi Accoglienti", which cannot literally be translated into English, attempt to express the concept of tourist itineraries where the visitors or tourists are warmly welcomed and the relational dimension is essential.
Today many areas sought by tourists are losing their authenticity. Artisan workshops are replaced by gentrified souvenir shops, houses give way to Bed&Breakfasts and even restaurants leave the local cuisine for anonymous and standardized menus.
The Confartigianato Project aims to revive the world of artisan craftmanship before the damage is irreversible, because we believe that the key to the future of tourism lies in the authenticity and well-being of the entire local community, made up of businesses, residents and tourists.
Percorsi Accoglienti has been developed with Confartigianato Imprese by Professor Giancarlo Dall'Ara, creator of the Albergo Diffuso and President of the "Alberghi Diffusi Association".
Percorsi Accoglienti is a model for organizing and managing the touristic and cultural resources of an area, in a way that local people and their skills play a fundamental role.
It aims to give life to a new proposal for the historic centers and villages of our Country to be powered by artisan craftmanship, accessible through the 'Bottega Artigianale Shops' which become easily accessible shops.
This project aims to prioritize cultural rather than economic centrality to artisans who work in historic centers, as well as stimulate new functions for craft workshops, in order to strengthen their place in the community by supporting improved performance and greater integration with the local economic and touristic fabric. The first Percorsi Accoglienti plans are being implemented in Palermo, Cremona, Matera, and many other cities will soon be added.
The Percorsi Accoglienti project is funded by ANCoS APS.